New Collection Just Dropped
It's been a minute since there was a new product update! All new pronoun designs and button styles are now available.
Self promotion is one of the hardest things about being an artist (or any type of self employed TBH). You never really know how something new will be received and that unknown part likes to attach itself deep inside your brain. No one wants to feel like they're being rejected.
I've struggled with imposter syndrome for as long as I can remember - well before I was selling my own art online. If you're not familiar consider yourself lucky. Imposter syndrome is basically when your brain has convinced you that you're not good enough or that whatever you've created is utter crap. Now the logical side of my brain knows that my stuff is good. But then those evil thoughts kick in when I go days without any sales.
I should really do a larger post on imposter syndrome so for now I'll just say it's really not for the faint of heart. You need a lot of self confidence to continually put out new things in the universe and hope that others love it just as much as you do.
---
New Designs
All new retro-inspired pronouns designs are available as stickers and buttons!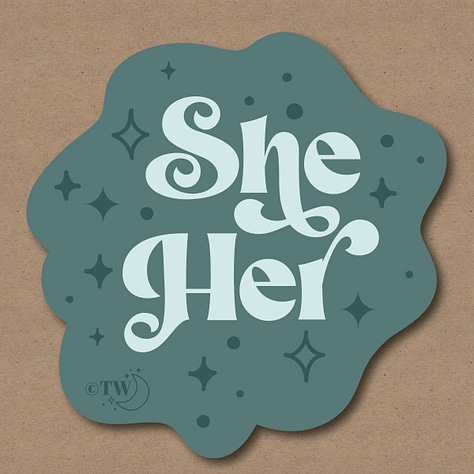 ---
Speaking of Buttons…
Many of our best selling designs are now available as button pins. I'm working on getting more of the favorites loaded on the site, but it's a little bit a slow process.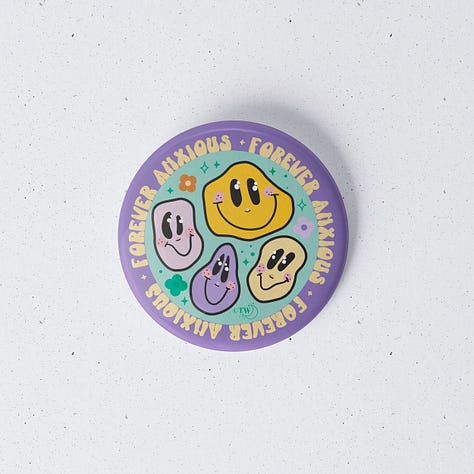 ---
Kayla (She/Her) is a queer artist and designer behind Tiny Werewolves. To receive new posts and support her work, consider becoming a free or paid Substack subscriber.
---
Congrats for reading this far!

Use code 'SSFreeShip' for free United States shipping your entire non-subscription order over $20. Enter code at checkout or click this link to have it apply to your cart.

*Expires on Sunday, January 15th at 11:59pm Central. No cash value and not valid on previous purchases.
---