Everything Sucks Club: A Lesson On Pop Art
Drive further into the inspiration for January's designs.
Pop Art Origins - Mid 1950's to 1969
Pop Art was an artist's response to consumerism, popular culture, products, imagery, media, and politics of the time.
Whether you know about different art styles or not, I guarantee you know what Pop Art looks like and for many folks you may have lived through the main movement. Pop Art started in the mid-1950's, although some credit Scottish artist Eduardo Paolozzi as a pioneer of the movement with his 1947 collage titled "I was a Rich Man's Plaything".
Paolozzi is credited as the first person to take imagery from advertisements and use them to create works of social commentary in the late 1940's which often reflected American culture and the "ideal" family. His works where often very avant-garde for the time period.
However, he was not the only one making collages during that time. British artist Richard Hamilton also was creating social commentary collages and is considered to be the father of Pop Art, especially as it related to Great Britain. All of Europe was still recovering from WW2 while American life was booming post-war and their magazines and advertisements flaunted the wealth.
---
Kayla (She/Her) is a queer artist and designer behind Tiny Werewolves. To receive new posts and support her work, consider becoming a free or paid Substack subscriber.
---
Well Known Pop Art Artists
As with anything that becomes remotely mainstream, there will always be people that history has deemed "the greats" from that genre and all of art history is no exception. Here are two artists you definitely know, one you may not.
Andy Warhol
One of the most well known artists of modern times is Andy Warhol. From his portraits of celebrities and pollical figures of the time to his soup cans - you've seen his work. The Warhol Museum contains a truly massive collection of Warhol's artwork, photos, audio and films. I highly recommend viewing the collection in person or online.
Roy Lichtenstein
It's not hard to see just how Lichtenstein's art was influenced by comic books. He often too references from popular comics of the time to make his comic parodies. Online Gallery
James Rosenquist
Something very unique among Pop Artists that Rosenquist did was work at a very, very large scale. As you can imagine, if Pop Artists are making collages from magazine and newspaper clippings, they can only be so large because of the material they source from. Rosenquist was known for taking source imagery from those sources and then painting them at a large scale. His paintings average about 6-7ft high. His longest piece is 86ft in length featuring a multi-panel room installation. Online Gallery
---
January's Club Designs
As I mentioned in a previous post, all the designs in my clubs for 2023 are going to be emoji based. Read more here.
For January, and I'm sure in other months, I wanted to choose emojis that connected to the vibe of the month. So first up I chose the Brrr Face (Magnet), the Grinning Face (Sticker), Laugh Crying (Button), and Snowflake & Gloves (Mini Stickers).
I chose some of the more recognizable design elements of Pop Art with the halftone dot shading popular in comic books from Lichtenstein, line work from Haring and repetition seen in many Warhol pieces. I also chose very bright colors. While Pop Art typically uses bold, primary colors (Red, Yellow, Blue), I chose a slightly different color pallet of Fuchsia, Cyan, Yellow, and Dark Purple with highlights of Light Teal and Light Purple for some contrast. Again as I said in my original post, my goal is not to copy each style/movement/artist but to be inspired by and create something in my own style.
Had emojis been around in the mid-century, I know Pop Artists would have definitely loved them and used them.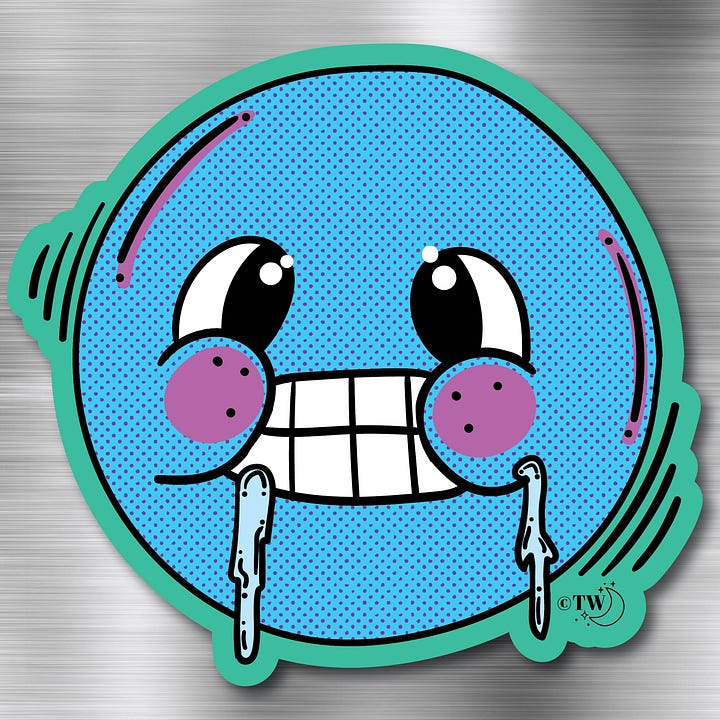 ---