December Clubs w/ @transanta
Help trans youth this holiday season. Plus holographic stickers & magnets are back!
This month's subscriptions benefits @transanta - a non-profit that helps folks donate to trans youth.
If you've been reading my posts, I write and talk about supporting trans kids a lot. If you'd like to know why, you can check out this post about supporting LGBTQ youth. I also have an entire collection dedicated to this topic.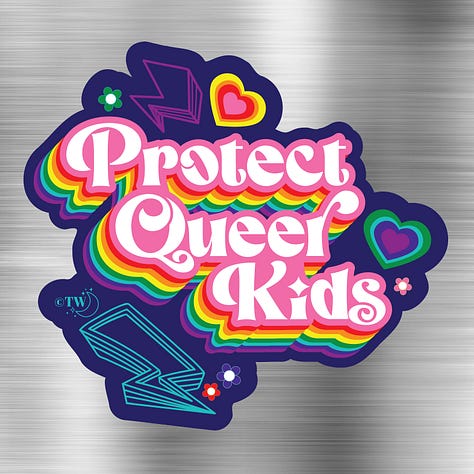 The holiday season should be a joyful time, especially for kids. The rough reality is that many queer kids don't get to openly be themselves at home. Seeing extended family that doesn't agree with who you are or who you love takes a huge mental, physical, and emotional tole - and this is something a child should never have to worry about.
This December I will be purchasing gifts off some of the registries and donating any leftover funds to @transanta directly. This month I am excited to announce that I received an extra donation to be applied to our December cause. An individual came forward at the end of November and wanted to support me but didn't want to sign up for a subscription. Instead they wanted to send a one-time payment and give extra money towards a cause. I explained my pick for December and they donated $100! We are going to really help out someone this holiday season. As of this morning (12/02/2022) I will be using $120 to fulfill some gifts for trans youth.
December's Donations:
@transanta
This month, we will be donating 10% of our sales to @transanta, a social media campaign started on Instagram in 2020. To date in 2022, they have received over 2,400 submissions from young trans people in need! These Wishlist are often for basic necessities like gender-affirming clothing, gift cards for food, and school supplies.

Applicants can submit an amazon Wishlist and a letter, which is posted to their social media account using only the first name and the state they are located in. Followers can then view each Wishlist and purchase items that are shipped directly to the applicant anonymously.

@transanta is a trans-led project running out of non-profit Allies in Arts. @transanta was born of a desire to center trans care, joy and giving at a time of escalating violence and attacks on the trans community. They are a mutual aid social media campaign that connects anonymous gift-givers with trans youth who are unhoused, in foster care, or otherwise without crucial support they need to thrive. @transanta exists to show trans youth that they are loved and supported, and that they have a family of people around the world who care for them, believe in them, and want them to succeed.
Other ways to help:
1. Buy gifts directly for trans youth from their gift registry links.
2. Donate money directly and support the future of the project.
---
Kayla (She/Her) is a queer artist and designer behind Tiny Werewolves. To receive new posts and support her work, consider becoming a free or paid Substack subscriber.
---
December's Sticker and Magnet Designs
This month our subscribers get one 3" stickers and/or one 3.5" magnet featuring these holographic retro holiday ornaments.
New: Holographic stickers and magnets are back! After a pause on offering them, I have finally found a material that doesn't change the high qualify products that I offer.